BUBBLE-UP WINDSOR RADON UNIT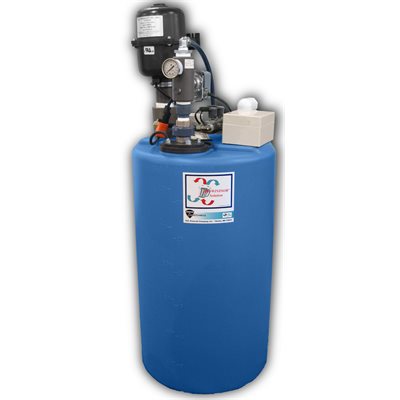 Press and move to zoom.
Mouse over image to zoom.
BUBBLE-UP WINDSOR RADON UNIT
Product Code: REP-86103
The Windsor
™
unit from R.E. Prescott Co., Inc. is designed to remove radon gas from water. Radon is a radioactive gas which can cause serious health problems. Inside the unit, air is blown into the incoming water and allowed to bubble upward. This bubbling action releases the radon from the water. Air containing the radon is then collected and vented out.

This kit contains:
4" X 31" BUBBLING CHAMBER LINER

(x 1)

WINDSOR TANK

(x 1)

5" X 1" GASKET #3231

(x 1)

5" X 1" TOP #3628

(x 1)

5" X 1" BOTTOM #3629

(x 1)

4" ALUM CHANNEL

(x 1)

1" BP, STAINLESS STEEL

(x 1)

COUPLING KIT

(x 1)

3 / 4" S.S. YOKE

(x 1)

STRAINER, 1 / 2"

(x 1)

18" SOLENOID CORD

(x 1)

1" X 10" WINDSOR PUMP SUSPENSION PIPE

(x 1)

1" PVC SCD 80 UNION

(x 1)

1.25" PVC SCD 40 SXT 90 ELBOW

(x 1)

1.25" X 1" PVC SCD 80 BUSHING

(x 1)

1.25" X 41" PVC SCD 40 OVERFLOW PIPE

(x 1)

2" X 35" SLOTTED PVC DOWNCOMER

(x 1)

1" X 3 / 4" NL BRASS BUSHING

(x 1)

1.25" X 3 / 4" NL BRASS BUSHING

(x 1)

1 / 2" X CLOSE NL BRASS NIPPLE

(x 2)

1 / 4" SCD 80 NIPPLE, YOKE MOUNT

(x 1)

#12 X 1.25" PHIL PAN SHEET METAL SCREW

(x 2)

#12 x 3" PHIL HD FLAT TAPPING SCREW

(x 1)

3 / 8" X 2.5" S.S. HEX BOLT

(x 4)

3 / 8" S.S. WASHER

(x 4)

3 / 8" ZINC PLATED NUT

(x 4)

#6 x 1 / 2" ATTACHING SCREW

(x 3)

2" ADAPTAFLEX, AIR OUTLET

(x 1)

1.25" ADAPTAFLEX, OVERFLOW

(x 1)

5 / 8" DELRIN SLEEVE

(x 6)

5 / 8" X 3 / 4" STRAIGHT w / STOP - NL BRASS

(x 1)

5 / 8" X 1 / 2" STRAIGHT w / STOP - NL BRASS

(x 1)

5 / 8" X 3 / 4" ELBOW w / STOP - NL BRASS

(x 1)

5 / 8" X 1 / 2" W / STOP ELBOW - NL BRASS

(x 2)

CORD SPLITTER

(x 1)

PUMP CORD PLUG

(x 1)

1 / 2" SS PEX INSERT

(x 6)

1 / 2" x 20' PEX TUBING

(x 1)

CARDBOARD BOX - BUBBLE-UP BOX

(x 1)

2" S.S. CLAMP

(x 4)

1 / 2" ROMEX CONNECTOR

(x 2)

PH5 PRESSURE TANK

(x 1)

WS1 GREEN INJECTOR

(x 1)

72" PRESSURE SWITCH CORD MALE

(x 1)

8" PRESSURE SWITCH CORD FEMALE

(x 1)

BUBBLE-UP LABOR

(x 2)

CIRCLE POLISHING CHARGE - AVERAGE COST PER FITTING

(x 1)

BUBBLE UP LOGO STICKER

(x 1)

MOLD AMORTIZATION CHARGE

(x 1)

PACKAGING STRAP

(x 1)

INSTALLATION INSTRUCTIONS

(x 1)

BUBBLE UP LITERATURE

(x 1)

BUBBLE-UP LABOR - PER UNIT CHARGE

(x 1)

GREEN CHECK VALVE

(x 2)

CHECK VALVE RETAINER PLATE

(x 1)

1 / 4" NO-LEAD BRASS HEX NIPPLE

(x 1)

1" MALE X 1.25" MALE INCREASING CHECK VALVE

(x 1)