Robert E. Prescott Jr. founded the R.E. Prescott Company in 1954. Since our humble beginnings, three generations of the Prescott family have been working to meet the needs of our loyal customers. When customers buy from the R.E. Prescott Company, they buy more than products — they buy solutions. We create unique and innovative solutions that satisfy the demands of an ever-changing water system, wastewater, and water treatment markets. The steadfast service we provide, accompanied by an experienced understanding of successful applications, lend credibility to our distinguished REPCO product line. We back all of our REPCO manufactured and distributed products with design and applied engineering knowledge. Our trained and licensed professionals help customers find the right product, engineer the best solutions, and implement practical applications. The bottom line — When you buy from the R.E. Prescott Company, rest assured, "You bought the best."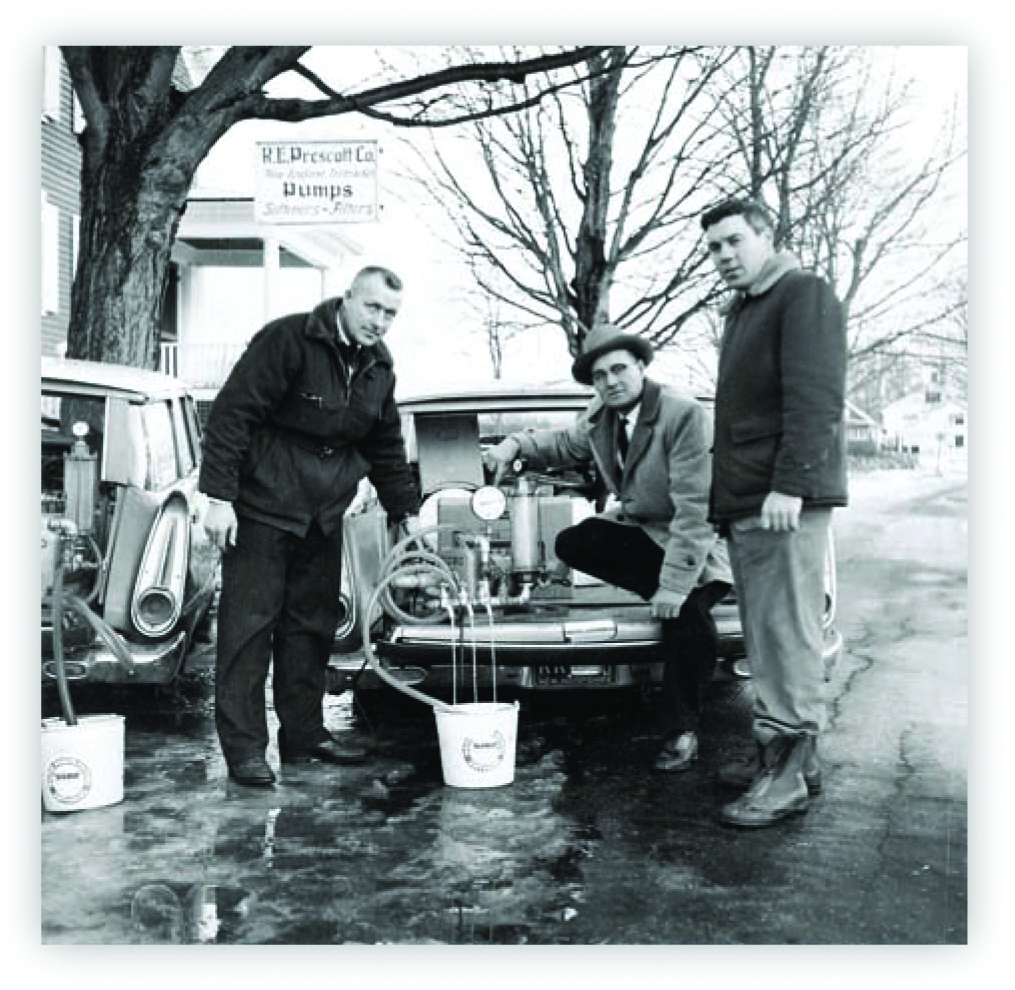 # 1 --- Residential : A complete line of water and wastewater pumps, tanks, filters, pipe, wire, controls and accessories are marketed wholesale to installing contractors such as : plumbing and heating contractors, well drillers, pump and filter installers and septic/excavator contractors.
# 2 --- Industrial : We have a broad line of pumps and equipment sold directly to corporate industrial purchasers such as paper mills, tanneries, chemical plants and municipalities. High tech alloys, special construction or special applications are easily handled.
# 3--- Proprietary Products : When a need arises for products that are not available or current products need to be enhanced, we have not shied away. Products for water born radon, arsenic remediation or any water treatment product are designed, engineered and manufactured at our facility. Trade names of REPCO Conditioners, Exeter-Line, Entipur, AquaBubble and Bubble-Up have become trademarks for quality products that provide economical solutions.
# 4 --- UL 508 Industrial Controls : REPCO Controls was born out of the necessity to provide our customers with a control system that brought operation and performance into a single box. REPCO Controls has grown to be a recognized UL 508 Industrial Control Panel Shop fabricating engineered water, waste water and industrial control panels. Each panel is built following strict engineering principles for operational quality and longevity using industry standard components. With over 60 years of experience in the water and waste water industry you can count on REPCO Controls and our engineering staff to solve your control problems.
# 5 --- Design & Build : Professional engineering services are available for the design of community water and waste water pump stations, pressure booster systems, and industrial process. This expertise, coupled with the engineered products and our contractor customer base, compliments our ability to provide the best "Design-Build" team.